What will my group work look like online?
Is there more group work information?
Learning in a community
At some point during your academic career you will likely need to participate in group activities. While it is sometimes difficult to shift from working individually to achieve success to relying on the contribution of others, group work is an opportunity to hone social and problem-solving skills that are valued in the workplace. Especially in an online environment, where there is less direct contact with your peers on an ongoing basis, group work is a way of strengthening your own learning by having to explain and present concepts and ideas to other learners in alternate ways. And, finally, it is a great opportunity to really start to get to know and interact with the other students in your program.
When you join a course delivered through alternate modes, you become part of a Community of Inquiry. In the Community of Inquiry, you will have an Instructor, content to process, and a learning community that fosters your learning (cognitive growth).
Within a Community of Inquiry, learners have two key roles:
Maintaining a cognitive presence in the community. This requires a continual process of critical thinking.
Developing a social presence in the learning community. This involves creating the open and mutual relationships that allow for learning and collaboration to occur.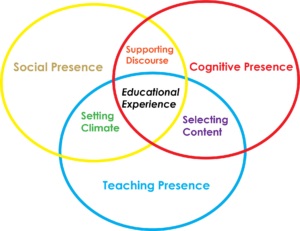 Cognitive Presence and Critical Thinking
How does learning happen? Is it the result of reading, memorizing, and taking exams? While many learning experiences have these components, the best kind of learning involves constructing new knowledge in a learning community. This requires interacting with new information (for example, from readings, discussions, videos, and lectures). You may receive this information with instructors, from fellow students, or you may search it out to solve questions or problems. Then, together with your learning community, you make connections between this new knowledge and your prior experiences. You also determine how this new knowledge will shape your professional practice.
The Community of Inquiry supports this process through the exchange of ideas, supporting one another exploring connections, and challenging ways of thinking through thoughtful questioning.
Social Presence
How does learning in a collaborative community take place remotely? Maintaining a social presence in an online environment involves allowing for open communication. Social presence allows you to risk expressing your ideas, based on the knowledge that your classmates will be respectful and supportive. All members of the community commit to supporting each other in their learning. Though it may be difficult to express some nuances and emotions online, using emoticons and interactive media elements such as audio and video can help.
Group work is also a key part of the Community of Inquiry experience. The best online learning experiences happen when you are able to form connections within a team as you work towards your learning goals.
Reference
Athabasca University. (n.d.). Community of inquiry coding template. Garrison, D. R., Anderson, T., & Archer, W. (1999). Critical Inquiry in a Text-Based Environment: Computer Conferencing in Higher Education. The Internet and Higher Education, 2(2–3), 87–105. https://doi.org/10.1016/S1096-7516(00)00016-6
Adapted from Learning to Learn Online by Kwantlen Polytechnic University under a Creative Commons Attribution-ShareAlike 4.0 International license.
Teamwork principles
After identifying what you hope to achieve through teamwork in your learning community, consider how you will form effective teams.
| | |
| --- | --- |
| Positive Interdependence | Members believe they are linked together; they cannot succeed unless the other members of the group succeed (and vice versa).They sink or swim together. |
| Individual Accountability | The performance of each individual member is assessed and the results given back to the group and the individual |
| Group Processing | At the end of its working period, the group processes its functioning by answering two questions:What did each member do that was helpful for the group?What can each member do to make the group work better? |
| Skills in Communication | Necessary for effective group functioning.Members must have – and use – the needed leadership, decision-making, trust-building, communication, and conflict-management skills. |
| Promotive Interaction | Members help, assist, encourage, and support each other's efforts to learn. |
Reference
Johnson, D., T. Johnson, R., & Smith, K. (1998). Active Learning: Cooperation in the College Classroom (Vol. 47). https://doi.org/10.5926/arepj1962.47.0_29
Adapted from Learning to Learn Online by Kwantlen Polytechnic University under a Creative Commons Attribution-ShareAlike 4.0 International license.
Roles
Having a diversity of skills and ideas within a group often enriches the group process and can improve the final product. However, working with others different from ourselves can be a challenge. One way to structure group functioning and benefit from one another's strengths is to assign roles to each member of the group. These team roles can be assigned based on individuals' strengths or rotated periodically to increase each member's understanding of the roles and of themselves as team members. There are four fundamental roles to consider: leader/facilitator, arbitrator/monitor, notetaker/time keeper, and devil's advocate. For larger groups, some of these roles can be divided between two students (see notes below).
Leader/facilitator
Clarifies the aims of the group and helps the group to set sub-goals at the beginning of each meeting. Sub-goals should serve as an agenda of issues that need to be addressed during the meeting.
Makes sure that all group members understand the concepts and the group's conclusions.
Starts the meetings, introduces each topic, and keeps the group on task and oriented towards its goals.
Ensures that the group completes its tasks before deadlines.
Typical phrases:
"Thanks for your contribution, Bill. What do you think, Mary?"
"From what I'm hearing, it appears that the key issues are A, B, and C. Why don't we start by discussing A, if that is agreeable to everyone?"
"So, it appears that we are all agreed that …"
Arbitrator/monitor
Observes group functioning carefully and initiates regular discussions on group climate and process, especially if he or she senses tension or conflict brewing.
During disagreements or conflicts, clarifies the arguments and proposes suggestions for resolving dispute.
Ensures that all group members have a chance to participate and learn; may elicit comments from members if they are not participating.
Acts as a cheerleader for the group whenever possible, praising members for work well done.
Note: For larger groups the role of "encourager" could be done by a different student.
Typical phrases:
"We haven't heard much during our meeting from you, John. Do you have any thoughts?" "It might be helpful if you backed off a bit, Kate, so we can hear what Doug has to say."
"I'm sensing a bit of tension among us over this decision; I think we should get our disagreements out into the open."
"I think we can feel really good about what we've accomplished to this point. Especially nice work on the project outline, Kim!"
Notetaker/time keeper
Takes notes during meetings to keep a record of what has been decided, tasks that have been assigned, when meetings are scheduled, etc.
Summarizes discussions and decisions for the rest of the group. Distributes a summary of each meeting to all group members.
Presents group material to the rest of the class/supervisor.
Keeps track of time during meetings to avoid spending excessive time on one topic. This is best handled by deciding how much time will be allocated to each issue in the agenda, and letting everyone know when this time is up. It is also useful to point out when time is almost up so that issues can be wrapped up appropriately.
Note: For larger groups, the roles of notetaker and time keeper could be fulfilled by two students.
Typical phrases:
"Hold on, please, I just need to get this down before we move on."
"I'll send you an updated version of our report tomorrow, along with a summary of today's meeting."
"We've spent about 15 of the 20 minutes we allocated to this topic, so we've got about 5 more minutes to sort it out."
Devil's advocate
Remains on guard against "groupthink" scenarios (i.e., when the pressure to reach the group goal is so great that the individual members surrender their own opinions to avoid conflict and view issues solely from the group's perspective).
Ensures that all arguments have been heard, and looks for holes in the group's decision-making process, in case there is something overlooked.
Keeps his or her mind open to problems, possibilities, and opposing ideas.
Serves as a quality-control person who double-checks every detail to make sure errors have not been made and searches for aspects of the work that need more attention. Keeps an eye out for mistakes, especially those that may fall between the responsibilities of two group members.
Note: For larger groups, this role of devil's advocate could be divided into two roles: devil's advocate and quality control.
Typical phrases:
"Let's give Mike's idea a chance."
"OK, we've decided to go with plan C, but I noticed that we still haven't dealt with the same problem that plan A didn't address. What can we do to solve this?"
Adapted from Group Roles: Maximizing Group Performance. Centre for Teaching Excellence, University of Waterloo under a Attribution-NonCommercial 4.0 International license.
Teamwork Stages
Tuckman suggested that teams move through stages in their life cycle: forming, storming, norming, and performing. At each stage, the group will work through a series of interpersonal tasks, as well as a series of project-related tasks.
As in the Community of Inquiry (CoI) model, Tuckman's model of team development indicates that cognitive and social components are needed. In a class-based team, it may be easy to focus only on the cognitive output of the group — the creation of the project, paper, or presentation. However, as you can observe from Tuckman's model, a well-functioning team requires its members to exhibit social presence throughout, communicating well in interpersonal interactions.
In the days ahead, you will likely find yourself on a newly forming team in an online environment. Consider the strategies you plan to use to demonstrate social presence and form a strong interpersonal foundation for your newly forming team.
As your group moves through these stages, stay aware of the patterns that tend to occur at each stage. For example, many teams falsely assume that their group cannot function when they find themselves at the storming stage. However, this stage is a normal part of team development, like the others. This infographic indicates what steps you and your group members can take together to move to the next stage in your work together. Ultimately, you want to achieve a performing team that supports your learning in community.
Now that you have reviewed the ways that a team can move on in their development, apply your knowledge to team dilemmas in the quiz below.
Reference
Tuckman, B.W. (1965) 'Developmental sequence in small groups', Psychological Bulletin, 63, 384-399. Reprinted in Group Facilitation: A Research and Applications Journal, Number 3, Spring 2001
Adapted from Learning to Learn Online by Kwantlen Polytechnic University under a Creative Commons Attribution-ShareAlike 4.0 International license.
Running a meeting
Working in groups is quite different than working individually. One of the main reasons why students find it difficult is that they were not trained to perform effectively in a team setting. An instructor can help by teaching organizational, personal, and discussion skills that will help students manage group dynamics and have a positive teamwork experience. Meetings are key events during group work, and there are several techniques for running effective meetings.
Planning and running a meeting
Steps that should be taken before a meeting happens:
plan the meeting carefully: who, what, when, where, why, and how many
prepare and send out an agenda, identifying issues to be discussed
set up meeting room send out background information about members
---
Steps that should be taken during a meeting:
start on time
make introductions of group members
clearly define roles
review, revise, and order the agenda
set clear time limits
review action items from previous meeting
focus on one issue at a time
---
Steps that should be taken at the end of and after a meeting:
record final decisions or actions to be taken
assign tasks to group members
set deadlines for the tasks
set the date and place of the next meeting and develop a preliminary agenda
evaluate the meeting, get feedback from members
close the meeting positively
prepare the group memo, distribute to members and others who need to know
Tasks that should be performed by the facilitator of a meeting:
encouraging participation
summarizing input
discouraging domination
encouraging decision making
keeping group focused
making final decisions, if necessary
clarifying ideas
delegating roles and tasks
providing feedback
keeping the peace
energizing group members
---
Skills that students need to develop to promote effective group work:
active and tolerant listening
communication skills
flexibility
accountability
respect for others' contributions
helping others to master content
participation
giving and receiving constructive feedback
patience
managing disagreements
motivation
keeping deadlines
Activities and tools that can be used in a group meeting for:
Opening discussion
list available resources
state different perceptions of what the real problem
brainstorm ideas – all ideas are encouraged and accepted
legitimize – show an understanding of how others see the problem
kickstart with an example
propose some potential solutions
ask each individual for a possible solution
---
Narrowing down the solutions
evaluate solutions using some criteria
make sure solutions address the issues
rank ideas in order of priority
categorize solutions
separate solutions based on "pros/cons"
look for redundant and overlapping ideas
force field analysis (what ideas give support to solving the problem? which ones prevent reaching a solution?)
---
Closing the discussion
majority voting
consensus
build-up/eliminate (add or subtract from different options to arrive at a new option that everyone can support)
combine ideas (avoid either/or decisions)
Adapted from Meeting Strategies for Group Work. Centre for Teaching Excellence, University of Waterloo under a Attribution-NonCommercial 4.0 International license.
How do I best manage my time?
Reading and note taking tips